Topic review (newest first)
pedro

2012-06-04 10:55:14
Hi

You might use a context variable to count row number.
Only add Header when the row number is 1.
In the end, use a subjob to add the Endfile by selecting 'Append' option.

Regards,
Pedro
zetex

2012-06-04 10:26:57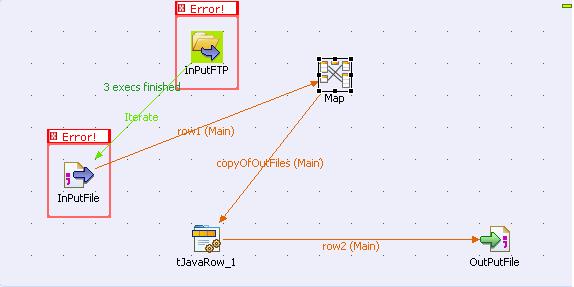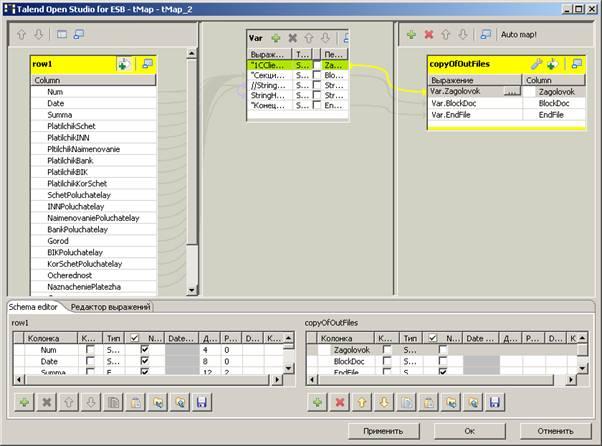 pedro

2012-06-04 08:15:46
Hi

Welcome to Talend Community!

For troubleshooting, please show us the image of your talend job and more details.

Regards,
Pedro
zetex

2012-06-03 21:23:51
1. The problem is in converting p_sb(in).txt file into p_sb(out).txt. file.

2. I create the following project in Talend Open Studio for ESB program.

3. The outcome of this scheme performance is p_sb(err).txt file.

4. The output should be the following format:

-Header

-Segment_1

-Segment_2

…

-Segment_N

-EndFile

5. However the file of the following structure is created:

-Header

-Segment_1

-Header

-Segment_2

…

-Header

-Segment_N

-EndFile

6. What is to be done to make "Header" appear only once at the beginning of the file? Probably there is a mistake in tMap module? The separator is used to describe the format of input and output files (as in csv file). The charset is windows-1251 for all the files. Is it possible to use the expressions for getting a row number and counting the total number of rows in module tJavaRow_1?